"A Vibrant Affair of Fashion, Innovation, and Talent"
Date: October 21, 2023
Location: New Delhi, India
In a dazzling display of creativity and innovation, the talented students of K.R. Mangalam University's Fashion Design Department took center stage at the Delhi Times Fashion Week held on October 21, 2023, at the luxurious venue, The Grand Vasant Kunj.Under the expert guidance of Professor Chandni Aggarwal and her dedicated team, the event showcased the students' prowess in the world of fashion, leaving a lasting impression on fashion enthusiasts and industry insiders alike.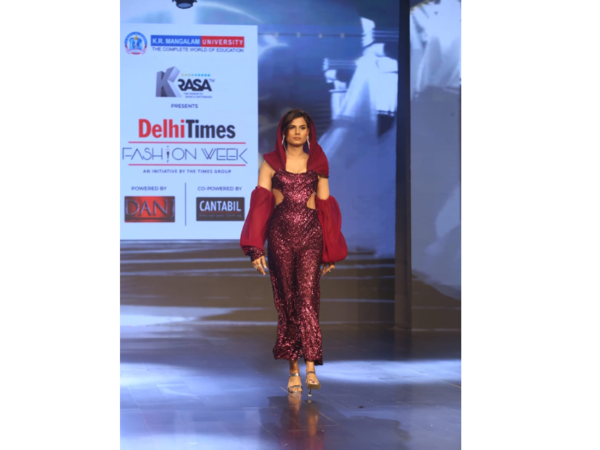 The overarching theme of the showcase, "Color Blocking," set the tone for a spectacular display of smart casuals. The students embraced this trend, infusing bold, contrasting colors and creative geometric shapes into their designs. The result was a collection that not only resonated with the audience but also showcased the students' keen eye for contemporary style. Attendees were left in awe of the dynamic approach to fashion that breathed life into the smart casual ensembles.
The event also featured the graduation collection of the 2020-2023 Fashion Design batch, divided into two distinct parts. The Beach Wear Collection drew inspiration from sun-soaked destinations, offering playful swimwear and breezy cover-ups. Vibrant prints and comfortable fabrics made this collection stand out. Transitioning seamlessly, the Couture Garments segment elevated the sophistication of the show, displaying exquisite attention to detail and luxurious materials. Each piece told a unique story, encapsulating elegance and opulence.
Feedback from attendees, including industry experts and fashion influencers, was overwhelmingly positive. The innovative approach to color blocking in the smart casual category left a lasting impression. The graduation collection received widespread acclaim for its practical yet playful beachwear designs and sophisticated couture garments, showcasing the students' dedication and creativity.
The event concluded with enthusiastic applause, marking the students' exceptional achievement. Guided by Professor Chandni Aggarwal and her team, the students not only met but exceeded expectations, leaving an indelible mark on the Delhi Times Fashion Week. Their use of color blocking in smart casuals and the breathtaking graduation collection demonstrated their potential for greatness in the ever-evolving world of fashion.
Delhi Times Week Fashion Show
The showcase was a testament to the creativity and innovation thriving within the fashion industry, offering a promising glimpse into the future of fashion design. The students and their mentors can take pride in their achievements, and the audience eagerly anticipates their continued success in the world of fashion.
About K.R. Mangalam University
K.R. Mangalam University is a leading educational institution known for nurturing young talents and fostering innovative minds in the fields of fashion design and 4th Industrial Revolution technologies. Committed to excellence, the university shapes the future of aspiring designers.
For more details, visit K.R. Mangalam University's official website: https://bit.ly/40gC92U
Disclaimer: Content Produced by K. R. Mangalam University