The Tamil Nadu Directorate of Technical Education (TNDTE) has released the results of Government Technical Examinations (GTE) 2023.
The typewriting exam, part of the Technical Exams (GTE) was held in August 2023.
Candidates who had appeared for the August session of the exam can check their results by going to the official website at dte.tn.gov.
How to check
TN DTE August 2023
results
Step 1:
Go to the official website of TN DTE at dte.tn.gov.in or click on the
direct link
.
Step 2:
Look for the the GTE August 2023 result link.
Step 3:
Click on the 'result' option.
Step 4:
Enter your credentials- Registration number and other details as asked by the portal.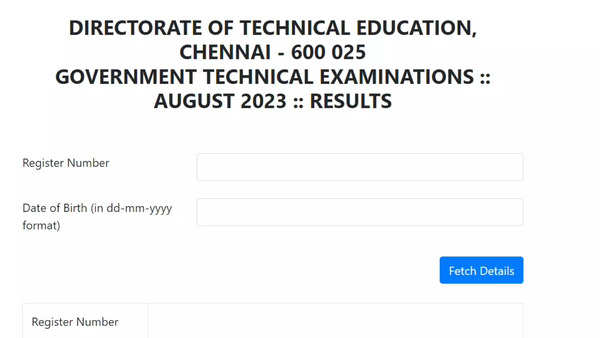 Screengrab of TNDTE – GTE August 2023 Result page
Step 5: After successfully submitting the details, the results page will appear.
Step 6: Check your scorecard and download it for future reference.
Earlier the TN DTE had released the results for the February session of Typewriting tests as part of GTE in May 2023.
Estimates suggest nearly 19,000 candidates appeared for the August 2023 session of the exam, of which around 12,000 have passed the exam.
The Government Technical Examinations (GTE) 2023 are conducted by the Directorate of Technical Education (DTE), Tamil Nadu, India. These examinations are held twice a year, in February and August, to test the skills of candidates in various technical subjects, such as shorthand, typewriting, and computer on office automation (COA).
To be eligible to appear for the GTE, the candidate must have passed the 6th, 8th, or 10th standard examination, depending on the subject. The examination is conducted in various centers across Tamil Nadu.
The GTE is a prerequisite for candidates who plan to pursue a career in various technical departments within the Tamil Nadu government service. Additionally, a job seeker who wants to apply for a clerical position in a private company may need to pass the GTE in typewriting or computer on office automation (COA).
Easy ways to improve your typing speed
To improve your typing speed and accuracy, focus on using all ten fingers and emphasise on accuracy over speed at first. It is ideal to type slowly but correctly than to rush and make mistakes. As you become more comfortable with touch typing, your speed will naturally increase. Keyboard shortcuts can save a lot of time, especially for frequent typists, so learn the ones you'll use the most. Regular practice is essential for improving your typing skills. Even 15 minutes a day makes a difference over time.