MUMBAI: Seventeen
students
from the Kanakia International School in Chembur have been selected for the Human Exploration Rover Challenge (HERC), an engineering design competition related to the
NASA
's mission.
The class 11 International Baccalaureate Diploma Programme (IBDP) students are among the 72 teams from across the world who will participate in the competition to be held next year from April 18 to 20. Across India, seven teams, including students from three high schools have been selected. These include the Birla Institute of Technology and Science-Pilani's Goa Campus, Candor International School, Bengaluru, KIET Group of Institutions, Ghaziabad, Punjab Engineering College, Chandigarh, Vellore Institute of Technology, Chennai and Young Mind Research and Development, Faridabad.
HERC, celebrating its 30th anniversary in 2024, encourages research in development of new technologies for future mission planning and crewed space missions to other worlds. Students from high schools, colleges and universities are eligible. Each team should have a minimum of six students.
The students, aged 17, will design, develop and test human-powered rovers capable of traversing challenging terrain and a task tool for completion of various mission tasks. They will be guided by their mentor Anuj Shah, who heads the STEM lab in the school.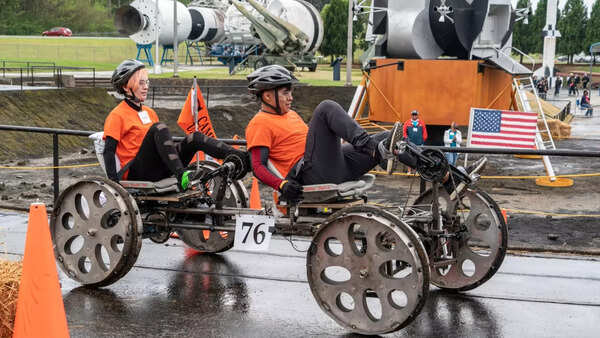 A sample of HERC rover designed in past competitions.
The competition requires two students, including a female, to use the student-designed rover to traverse a course of approximately half-mile that includes field of asteroid debris, boulders, erosion rugs, crevasses and an ancient streambed. The competition will be held at the Marshall Space Flight Center in Huntsville, Alabama, USA.
Shah said the students are spending hours in the Science, Technology, Engineering and Mathematics (STEM) laboratory ideating and brainstorming on the design of their rover. Minute details like the height and weight of the two students who will operate the rover has to be taken into account while designing the rover, explained Shah, who has zeroed down on the two students who will manually operate the rover, which will be designed based on 10 assigned tasks.
An online review of their design will be done by NASA officials on November 16. Students will then spend their school hours to construct the rover, following which an operational deadlines review will be done by NASA officials on March 7, 2024.
Finally students and their mentor will test the rover before the vehicle is shipped to the US Space and Rocket Centre (USSRC) ahead of the competition.