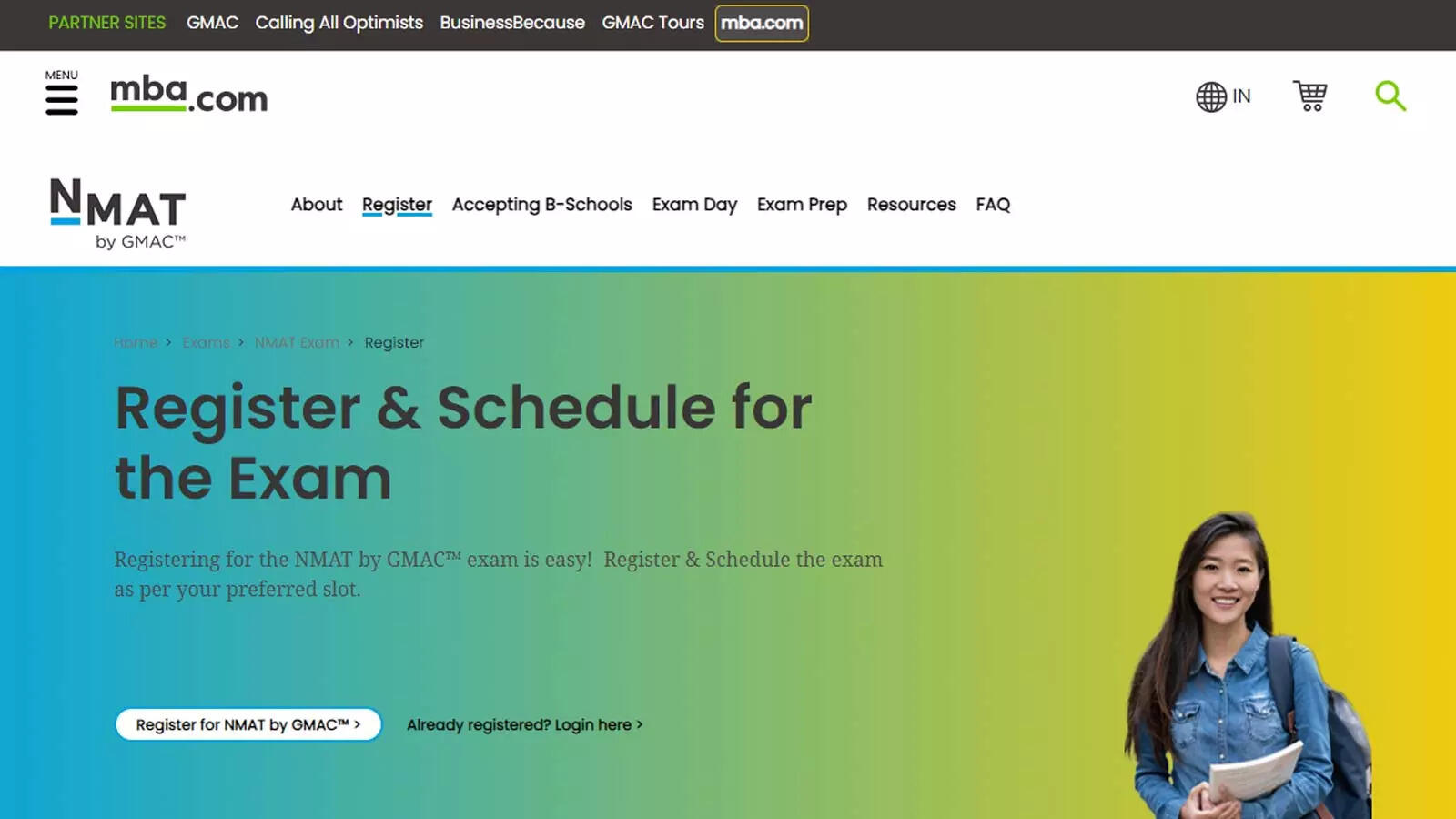 NMAT 2023 Registration
:
The Graduate Management Admission Council (GMAC) is set to close the application registration process for the NMIMS Management Aptitude Test (NMAT) on October 10, 2023. This national-level entrance exam is a gateway to seeking admission not only at NMIMS University but also at other prestigious B-Schools in India and abroad.
Interested and eligible candidates can apply for NMAT 2023 through the official website: https://www.mba.com/.
The NMAT registration process commenced on August 1, 2023, and aspiring candidates have the opportunity to sign up until October 10, 2023. Scheduling for the exam also initiated on August 1, 2023, and candidates could schedule their exam slots until October 12, 2023. The actual exam delivery phase began on October 10, 2023, and continued until December 19, 2023.
The NMAT by GMAC exam comprises three sections: Language Skills, Quantitative Skills, and Logical Reasoning. Each section is individually timed, and candidates must answer the questions within the allocated time. Questions are presented one at a time, chosen randomly from a question pool. The number of questions, their difficulty levels, and the time limits for each section are predetermined and consistent, regardless of when and where the test is taken. Candidates have the flexibility to choose the order of the test sections at the start of the exam.
The NMAT by GMAC exam consists of three distinct sections, each with its own set of characteristics:
• Language Skills Section: This section comprises 36 questions to be answered within 28 minutes. It evaluates language proficiency and is scored on a range of 12-120.
• Quantitative Skills Section: With 36 questions and a duration of 52 minutes, this section assesses mathematical and quantitative abilities. The score range for this section is also 12-120.
• Logical Reasoning Section: Candidates are presented with 36 questions to solve within 40 minutes in this segment. It tests logical thinking and is scored on the same range of 12-120.
In total, there are 108 questions to be tackled over 120 minutes, and the cumulative score range for the entire exam is 36-360. Each section has its predetermined number of questions, time limit, and scoring range, making for a structured and consistent examination experience.
The section topics include reading comprehension, para forming, error identification, prepositions, sentence completion, analogies, critical reasoning, analytical puzzles, deductions, number properties, arithmetic, algebra and probability, data integration caselets and tables, data integration graphs and charts, and data sufficiency.
After completing the exam, your scorecard will be available for download within 48 hours. You'll receive an email notification when it's ready. The scorecard will display your scaled section scores and total score. Keep in mind that scorecard availability may be delayed by 5 to 7 working days due to testing incidents and online exam audits.
Scaled scores in the NMAT by GMAC exam are tailored to each candidate's ability level. High-scoring candidates receive more challenging questions, while low-scoring candidates encounter questions that match their proficiency. The exam is scored using a probabilistic model approach, resulting in scaled scores ranging from 12 to 120.
Direct link to apply online for NMAT 2023
How to apply for NMAT 2023?
Step 1: Visit the official NMAT website.
Step 2: Click on the 'Register Now' or 'Apply Now' button.
Step 3: Create a new account by providing your personal information, including name, email address, and mobile number.
Step 4: Choose a secure password and complete the registration process.
Step 5: Log in to your account and fill out the application form with your academic details and preferences.
Step 6: Pay the application fee online, and you're successfully registered for NMAT 2023.